South Milltown School History
---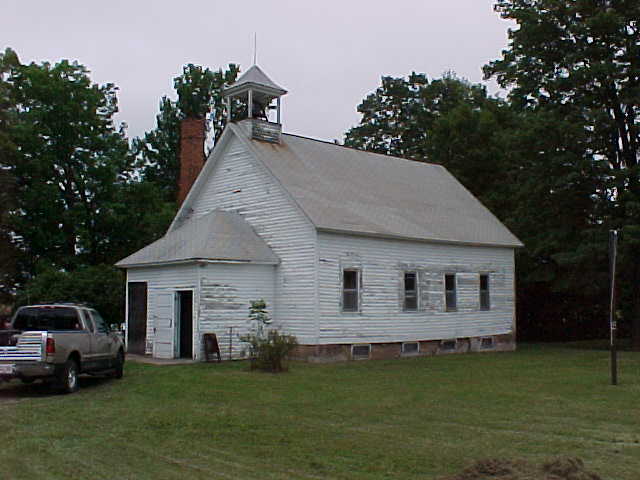 Picture Taken in 2000
---
The school was originally built in 1899-1900 and was known as Milltown District No.3. The building was changed several times. One early change consisted of closing off three windows on the north side and adding them to the south side (making six windows on the south side.) This was to comply with a new lighting regulation insisting that light must come over the left shoulder or from the back of the room. Another change was that a basement was dug and a furnace installed (coal, later converted to fuel oil.) An entrance was added to the front of school allowing an inside access to the basement. Water was pumped by hand and carried into the school. The toilets were (and still are) outside.
The school was in continious operation from 1900 to 1957 with grades first to eighth. When it was integrated into the Milltown School District, the grades were reduced to first to sixth. At the end of the 1958-1959 year it was closed.
The South Milltown School was sold to the South Milltown 4-H club in 1961. The 4-H meetings had been held at the school since the club was started in the mid 1930s. The meetings continued to be held there year-round until the mid 1970s. As the furnace was no longer reliable, the winter meetings were held at other places (members homes, etc.) Warm weather meetings continued to be held at the school.
In the summer of 2000, a school reunion was organized by the South Milltown 4-H. All of the people who had attended the school over the years were invited along with all of the neighbors. The event was to anounce the 4-H club's plan for the renovation of the building and to ask for donations and volunteer help. The renovation plan was well received by all that attended.